Liza Przybylska
Poland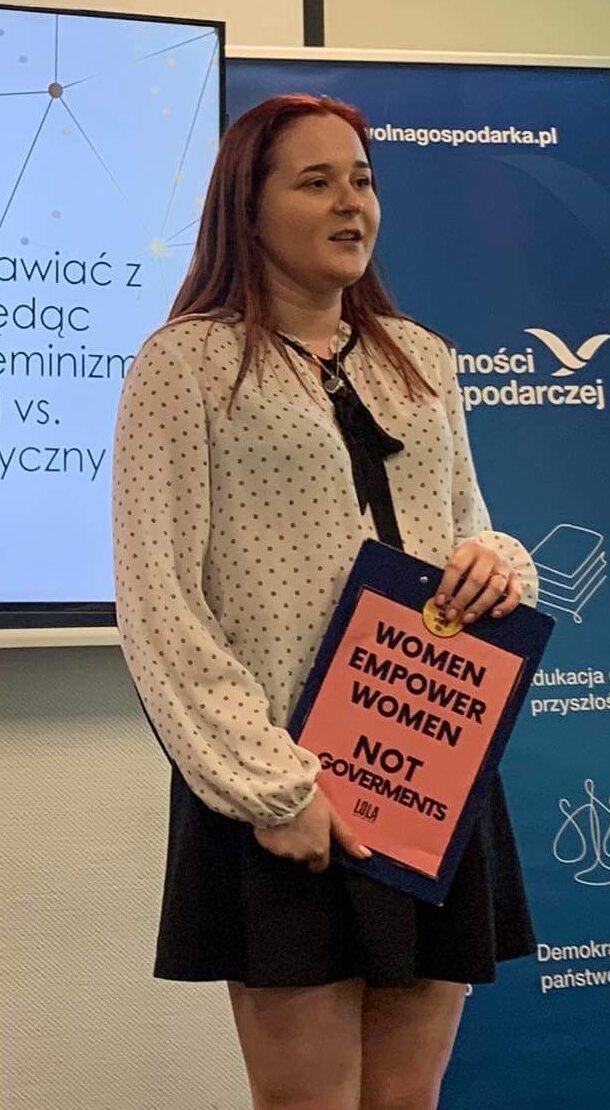 My name is Liza, I am 21 years old!
I am a second-year law student and a first-year criminology student. I have been active in the freedom community for almost 3 years. I started my activity in the organization Młodzi dla Wolności, in which I have the pleasure of serving as President of District No.35 since January 2022. In 2023, I became District Vice President of the Nowa Nadzieja Party.
However, my story does not end with the party. Since the second half of 2022, I became one of the leaders in the Ladies of Liberty Aliance (LOLA), an organization that aims to educate women on liberal or libertarian topics. Since 2021, I have also been active in the Social Narcopolitics Initiative.
Since 2022, I have also served on the board of directors of the Economic Liberalism Research Circle at my University. I am involved in law circles, the law society or scientific circles related to psychology, psychiatry and criminology. I also participate in scientific conferences and wrote a scientific article on the annihilation of the Inghutia by the Kingdom of Denmark besides my own research on liberal views among women.
My dream is to achieve something in the future to help people make law easier, and above all, to restore people's faith in liberalism and reject all the myths that have been created in post-communist Poland. Why, then, was this fundraising created? So that I can realize this dream. I'm the type of person who doesn't like to ask for help very much, but in this case it's a one-in-a-million chance for me.
I am in the final stages of recruitment for the Arizona Project, which will allow me to go to Arizona, U.S. for 6 weeks. To do this I need to raise $2.5 thousand for accommodation to make my dream come true (total cost is $5 thousand, but it is partly covered by the foundation, which I thank for the great opportunity).

Unfortunately, this year, betting on education, I had to give up my job, and it is difficult to reconcile work with studying two majors at the same time, plus activism, science and political activism. Therefore, I turn to you with a huge request to help with a tiny amount. What I offer in return? I am able to describe my entire trip in a report/vlog, in which I will talk about what I learned in the fields of Economics, Law and Journalism, in addition, I am able to send small souvenirs from the USA.

I will certainly try to use my knowledge in political activity, so that we Poles can live with dignity, and above all, free.
"The most important thing will be what I bring with me, in my head, soul and heart, that is the experience of a true free place, which is extremely important to me."