You are about to make a general donation. Thank you! It will be spent well. There are three ways to do it:
---
Tax deductible suport through Liberty International
We encourage you to grasp the opportunity to make a tax-deductible donation. It can be done thanks to cooperation with our wonderful partner, Liberty International. How to process it? Just go to https://liberty-intl.org/join-the-movement/
. Then, find "Project Arizona" in the panel on the right and type in the amount of support. Then, just follow the simple instructions!
We will get 100% of your donation and you will still get portion of your taxes back!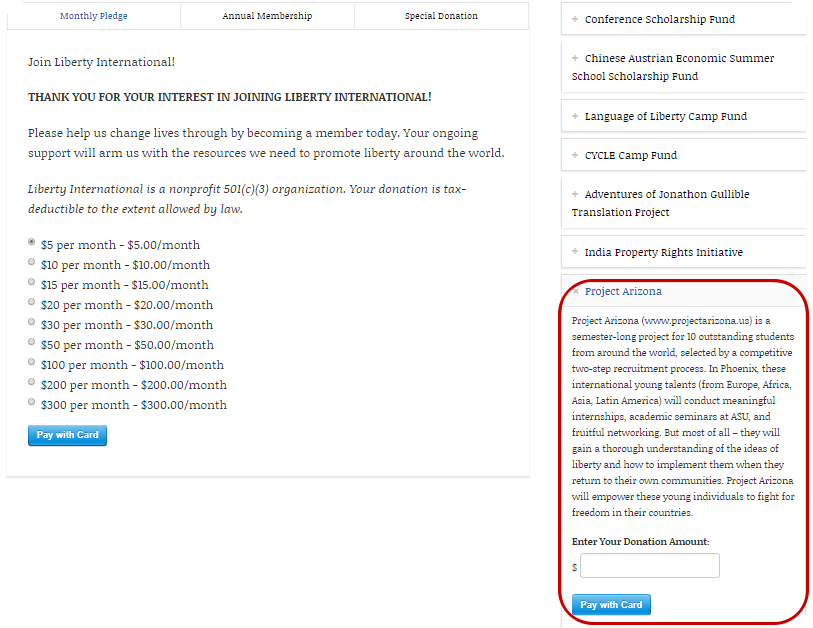 ---
PayPal/Credit card via PayPal
We gladly accept PayPal donations which you can make  by clicking HERE or on the PayPal button below.
Then, please type in your billing information.
After that, please type "Raise me to the top campaign – general donation"  in the transaction description.
What's important, PayPal allows to use credit card to process donation.
---
Donations via international bank wire
Please wire us the amount of your support to the USD bank account of Project Arizona's organizer –
Freedom and Entrepreneurship Foundation from Poland.
Transfer's title: Donation for Project Arizona
Name: Fundacja Wolnosci i Przedsiebiorczosci
Address: Asnyka str. 6, 40-696 Katowice, Poland
IBAN: PL 79 1140 2017 0000 4212 0125 8060
BIC/SWIFT: BREXPLPWMBK
Bank's Name: mBank Bankowosc Detaliczna BRE Banku SA
Bank's Address: Skrytka pocztowa 2108, 90-959 Lodz, Poland