Be a hero for a Ukraine freedom fighter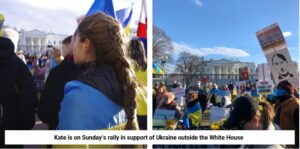 How is that to see a Russian invasion with your own eyes? Our Project Arizona alumna from Ukraine, Kate Shapovalenko, woke up at 5 a.m. Feb. 24 to the sound of missiles slamming into buildings in the Ukrainian capital of Kyiv. Confused and terrified, Kate began receiving calls from her friends and family confirming her worst fears: Russia was invading. "I think it was the worst-ever experience of my entire life. My heartbeat just skyrocketed", she says.

Our team has been worried about Ukraine and organized an evacuation campaign for Kate a few days before the war began. Kate eventually managed to escape to neighboring Poland, where she made her way to Germany and eventually the U.S. She is currently safe in Arizona and can work interruptedly for the best of Ukraine, but says she has family and friends back in Ukraine. "Now I can truly confirm that Project Arizona not only transforms but also saves lives," said Kate to us when we met her in Phoenix airport.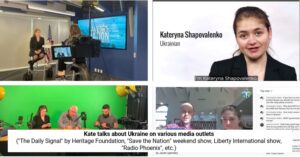 It is not Kate's first time in the US. Kate completed a public policy fellowship at Harvard University, participated in Project Arizona 2020, and attended multiple events from Atlas Network. In Ukraine, Kate is a Project Manager at a Ukrainian free-market think tank EasyBusiness and a Public Policy Team Lead at the Centre for Economic Recovery. Now she and her large team fight on the economic and information fronts of the war. Their goal is to transform Ukraine into the #1 economically-free country. This Fall Kate plans to begin a graduate program in data science/public policy at Carnegie Mellon University where she received a 65% off tuition scholarship. Now Kate is staying in the US. 
We, at Liberty International, continue supporting Kate and decided to launch this fundraising campaign. As a 501(c)(3) Certified Charity whose mission is to bring liberty to every corner of the world, we're very excited to involve our community in our latest fundraising efforts. We will direct funds to Kate, so she can cover her primary expenses in the US and support her hometown Chernihiv with humanitarian aid.

Are you able to support this incredible cause? Any amount you can contribute will make a difference.

To contribute, please visit Liberty International Fundraising page and mention "For Kate's campaign" in the comment section.
To hear more about Kate's story, go to The Daily Signal by Heritage Foundation II Save the Nation by FreedomWorks Media 

Thank you for reading about our latest mission, and please reach out if you'd like to learn more and get involved with our fundraising efforts.