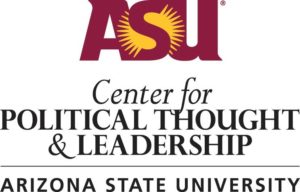 In the first week after arriving in Phoenix students will take part in the academic seminar at the second largest American University –Arizona State (ASU). Seminar will focus on the political history of the United States and the free market economy. Co-partners of the seminar are the ASU Center for Political Thought & Leadership, ASU Center for the Study of Economic Liberty and Language of Liberty Institute.
Political history course will be conducted by prof. Donald Critchlow (political scientist, founder and president of the ASU Center for Political Thought & Leadership) and Glenn Cripe (president of the Language of LibertyInstitute).
 Students will learn about federalism, American Constitution and political history in relations to the founding ideas. Free market economy module will be presented by Steven Slivinsky (ASU Center for Study of Economic Liberty) and Andy Eyschen (Language of Liberty Institute). Main goal of this course will be to present how free market economy impacts the everyday life of Americans.
What is crucial, all Project Arizona students will participate in the final exams. After passing the tests they will receive certificates of graduation. It is also worth mentioning that at the seminar we will host many special guest speakers, including: judge Clint Bolick (Arizona State Supreme Court Judge) Tom Jenney (president of Americans for Prosperity Arizona), Timothy Sandefour (vicepresident of Goldwater Institute), Joe Cobb (economist). We have also invited the governor of Arizona, Doug Ducey – we are waiting for his confirmation.
Thanks to working with ASU Center for Political Thought and Leadership we can offer our students not only internships and seminar on the highest academic level, but also an unique possibility to attend workshops on public policies, which will take place on every Monday at ASU. What's more –students of Project Arizona will be able to attend – free of charge – all the classes offered by the ASU Center for Political Thought and Leadership in their bachelor's degree studies.
About the Center
The Center for Political Thought and  Leadership at Arizona State University seeks to train a new generation of leaders  well-versed in the principles of democracy.  The center's mission is to impart a deeper understanding of the meaning of political liberty  and economic well-being to the academic and larger public community through undergraduate education, scholarly research, and public events.
The Center for Political Thought and Leadership provides a forum for national and international scholarship and research in political thought. The center brings together political, legal, academic, community and business leaders involved in public affairs to exchange and  develop ideas about leadership and the meaning of leadership in their respective fields. Students at ASU are provided with opportunities to learn from and build networks directly with these leaders, providing them with a vital connection to their future career fields. In this way, the center fulfills Thomas Jefferson's admonition for universities to combine academic knowledge with public life.
The Center of Political Thought and Leadership focuses on these principle areas.
Academic Research: The research mission of the center is conducted through postdoctoral fellows; lectures and seminars for distinguished scholars; and a publications program incorporating the Journal of Policy History, a quarterly published by Cambridge University Press.
Undergraduate education: Integral to the center is the undergraduate certificate program in Political Thought and Leadership, approved by ABOR in Spring 2013. This program revolves around a set curriculum anchored by an introductory course, "Foundations of Democracy" and a concluding senior research seminar, "Political Thought and Leadership." In addition, the program establishes student/community reading groups, lectures, and an active internship program.
Public  outreach: Through center events and educational outreach programs, the center seeks opportunities to enhance civic literacy and education within the larger community, including the general public, K–12 teachers, and community leaders
ASU Program in Political Thought and Leadership (Available for Project Arizona's participants as audit)
About the program
Students selected for the program are required to take two courses, an introductory, "Foundations of Democracy," and a capstone research seminar, "Political Thought and Leadership," in which they are asked to write a research seminar paper of their choice. Both classes will feature outside speakers. In addition students are required to take three additional elective courses.
Political thought library
The Jack Miller Center for the Teaching of Founding Principles gifted the program with a complete library of first edition books consisting of major authors of political thought in Europe and America. Included in this library are approximately two hundred books ranging from the collected works of important classical Greek philosophers, European political and economic authors, American founders such as James Madison and Thomas Jefferson, and contemporary economists such as F.A. Hayek, Ronald Coase, F.A. Hayek and Milton Friedman. In addition, the library contains over fifty digital recordings of lectures by prominent authors on a range of topics. This library is open to all students enrolled in the program.
Directors
Donald T. Critchlow is the author of "When Hollywood Was Right: How Movie Moguls, Film Stars, and Big Business Remade American Politics" (Cambridge University Press). He has authored and edited many other books including "The Conservative Ascendancy: How the GOP Made Political History" (Harvard University Press, 2007; revised 2011 University of Kansas Press); "Phyllis Schlafly and Grassroots Conservatism" (Princeton University Press, 2005, pap. 2007); and "Intended Consequences: Birth Control, Abortion, and the Federal Government" (Oxford University Press, 1999, pap. 2001). Critchlow is currently working on a new data driven book "American Democracy Now and Its Future." Critchlow is editor of the Journal of Policy History, an interdisciplinary quarterly published by Cambridge University Press. Critchlow is a native California, a graduate of University of California, Berkeley, and is Professor of History at Arizona State University. Critchlow has taught at Hong Kong University and Warsaw University, and a number of other universities. He has lectured throughout Europe and Asia.
Kent Wrightreceived his Ph.D. in History in 1990 from the University of Chicago. His research and writing has been devoted to three related subjects – French political thought in the era of the Enlightenment and the French Revolution, the wider history of the Enlightenment and its place in modern thought and historiography in general. He is the author of "A Classical Republican in Eighteenth-Century France: the Political Thought of Mably" (Stanford, 1997), and of essays on French republicanism, Montesquieu and Rousseau, historical writing in the eighteenth and nineteenth centuries and on Ernst Cassirer and Carl Becker. Wright is currently editing a volume of essays on the Enlightenment for Blackwell's New Histories series, and working on two book projects: a study of the Enlightenment in twentieth-century thought, entitled "A Bright, Clear Mirror," and a study of Montesquieu's political thought in its historical context.
Program Fellows
Each year the Program in Political Thought and Leadership selects a small group of undergraduate students to become fellows in the Program in Political Thought and Leadership. In the classroom these students encounter outstanding scholars at Arizona State University in History, Philosophy, Religious Studies, Political Science, Classics, and other disciplines who will introduce them to the world of ideas. Students will read, discuss, and debate views of democracy found in the Old Testament, classic Greek philosophers including Plato and Aristotle, St. Augustine, Nicole Machiavelli and Martin Luther, and influential great Americans including Thomas Jefferson, James Madison, and Abraham Lincoln, as well as modern thinkers such as political economist F.A. Hayek and philosopher John Rawls. Real leadership involves more than just classroom experience. For this reason, students are provided with the opportunity to socialize with corporation executives, lawyers, and public officials at lunches and dinners in which small groups of students attend lunches and dinners with guest speakers. This allows for fuller discussion of what leadership means and an opportunity for networking.