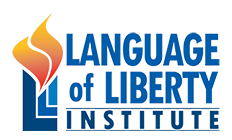 Main organizer: Language of Liberty Institute is an American non-governmental organization specializing in organizing Liberty English Camps – events that enable participants to practice their English skills and also learn about principles of classical liberalism.
The workshops conducted during the camps focus on problem solving and providing practice in giving a professional, business-like presentation in English to the entire group.
LLI guides students to plan a new business, develop budgets and marketing strategies, and figure out how to raise money. Organization focuses on preparing a working blueprint for change in students' home countries, emphasizing private, voluntary action to solve local problems such as pollution, unemployment, corruption, or poverty.
Go to website

Assisting Organizer: Freedom and Entrepreneurship Foundation is an independent non-profit organization whose aim is to create a new generation of leaders, entrepreneurs and managers.  FEF was established in September 2012 to provide students' new solutions in education.
Teaching in the spirit of individual freedom linked with responsibility is the core of our mission. But our new approach is not only about content, we deliver knowledge and practical tools students can apply in their lives. Thanks to broad scholarship offer for best graduates we are helping them to advance their careers. By crafting business leaders we want to make Poland, Europe and the whole world a more free and business friendly place.
Go to website